Who are we? 3rd Farnworth St Johns Brownies
When do we meet? Tuesdays
At what time? 7.00 - 8.30 pm
Where? St Johns School
Age range: Girls aged 7 – 11 years
Brownie Leaders Alison Mole 07919 407893
Jackie Powell 07762 050824
Click here to read our 2017-18 Brownie report
The 3rd Farnworth (St John's) Floral Display
at the Bible Stories Flower Festival held from 5th – 7th May 2017
The Brownies sponsored and arranged a floral display depicting
'LOAVES and FISHES or The Feeding of the 5000'
(Luke chapter 9 verses 10 -17)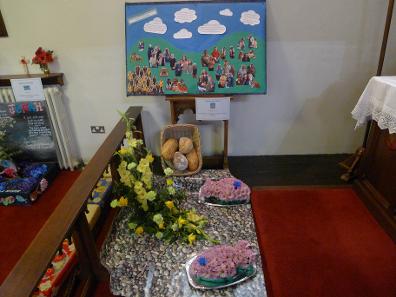 3rd Farnworth Brownie report for 2017
The past twelve months have continued to be busy and enjoyable at Brownies. We have seen a number of our Brownies leave because they have reached the magical age of 11, meaning that they can longer be with us. A few have joined our guide unit, whilst others are thinking about it. We have, on the other hand, had new girls joining our pack. Some have come up from Rainbows, whilst others are new to the guiding movement.
We, as leaders continue to face new challenges to keep the girls interested in coming each week. There are so many other things that they can do these days.
We have actively encouraged the girls to work towards interest badges. Badges achieved include, writer, cyclist, speaker, sports, artist and the swimmer badge. Currently five brownies are working towards their discovering Faith badge.
At our meeting we enjoy playing games, treasure hunts, colouring therapy, quizzes, craft work, baking, going for walks (weather permitting) and learning about ourselves, our community and our World. The Brownies have been very keen to take part in our family services and enjoy writing their own prayers and doing the reading during the service.
Last October we had a joint trip with our rainbows and their leaders to Legoland and Sealife at the Trafford Centre. We slept overnight by the side of the fishes. Or shall I say –some slept! A good time was had by all.We had a joint Christmas party with the Rainbow where we played games, won prizes and for a change, had pizza for our tea.
Rachel –our young leader in training, has almost completed her training. She continues to be a valuable member of our team. We would all like to wish Rachel well as she will be leaving us later this year to embark on the great adventure of University life. This coming year we hope to do more day trips and maybe a weekend. We look forward to new girls joining. The most important thing for all of us, girls and leaders, is to have fun!
Alison, Jackie, Dot and Rachel –our young leader in training.
June 2014
Over the last one and a half terms, we've been doing the 'Great Outdoor Challenge' based on some early girlguiding badges.
Once our badges have been printed they will be presented to the Brownies at the Family Service in Church.
3rd Farnworth Up High Hike to the Pike 15th June 2012 to celebrate Region's 40th Anniversary
3rd Farnworth Pink Bowling Party in aid of Bolton Hospice UNITE - 2012
Jubilee Party at Bury Barracks 2012
Our Brownies' History - Looking Back
St John's Brownies were formed in 1928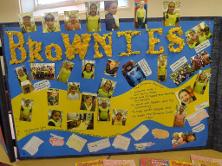 The Brownies display at the 'Waterloo Open Weekend' at St John's Church on Saturday 10th and Sunday 11th October 2015.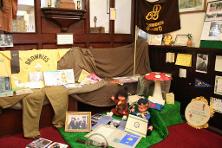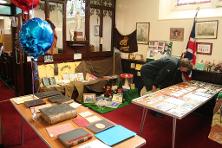 The Brownies Display at the church's 'Heritage Open Days', celebrating the 180th Birthday of St John's Church. It was held from Saturday 9th September to Tuesday 12th September 2006.
St John's Brownies form 'Guard of Honour' for their Brownie Guider in 1934
The 3rd Farnworth St John's Brownies and Guides formed a 'Guard of Honour' outside St John's Church at the marriage of their Brownie Guider, Marion Critchley, to Albert Lever on Saturday 28th July 1934.
Photograph courtesy of Dorothy McGlynn (nee Lever)
Please click on the image to see a larger version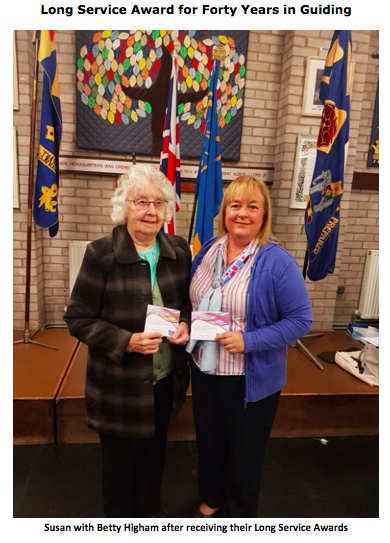 Susan Stevens was presented with her 40 years Long Service Award, at the Lancashire Border Girl Guiding Annual Awards Evening, held on 16th November 2017 at Bolton Headquarters, Shepherd Cross Street, Bolton.
Susan Lever started Brownies in 1965, when she was six and a half years old (underage). That year she was invited to attend Norma Rushton's 'Test' Pack Holiday, (with special dispensation being given).
She became Sixer of the Fairies Six and later the Sprites. She was the last Brownie at St John's 3rd Farnworth Pack to become a First Class Brownie before the new programme of Journeys in 1968.
In 1970, Diamond Jubilee Year, Susan 'flew up' into St John's Guides and was lucky enough to go to London and meet Lady Baden Powell. In Guides, under the guidance of Captain Betty Higham, she enjoyed taking badges, working towards her Queens Guide, camping and being a Patrol Leader.
Susan was also Pack Leader at Brownies, the link between Brownies and Guides.
When she was 14 years of age, Susan became a Ranger in Farnworth Division, where she stayed until becoming Assistant Brownie Guider at All Saints 2nd Farnworth Brownie Pack in 1977.
Susan worked for Greater Manchester Fire Service for many years and was known to her colleagues as 'Susan the Brownie'.
In 1981, following her marriage to Brian Stevens, an opportunity arose for her to move back to St John's, as Assistant Brownie Guider. She obtained her Pack Holiday Licence in 1985.
Susan remained at St John's, as Assistant Brownie Guider until her own Brown Owl, Norma Rushton, retired from active Guiding in 1998. She then became Guider in Charge.
In 2009 Susan was elected Farnworth Division Commissioner.
It was in 2015 that Susan transferred to the 16th Radcliffe Brownies at Christ Church, Ainsworth as Assistant Brownie Leader.
The 3rd Farnworth (St John's) Brownies Floral Display at the Flower Festival in September 2001.
The 3rd Farnworth (St John's) Brownies sponsored and arranged a floral arrangement, depicting the hymn 'All Things Bright and Beautiful', at the church's Flower Festival celebrating the 175th birthday of St John's Church. The event was held from Friday 7thSeptember to Sunday 9th September 2001.