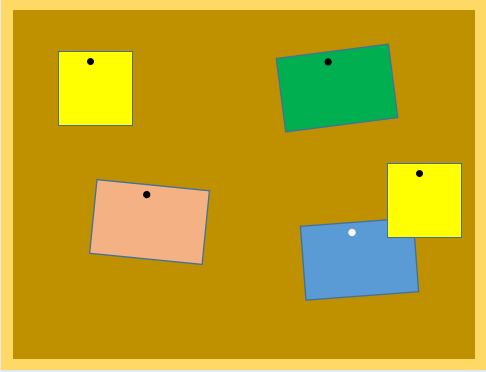 Friday Late Afternoon Prayers
The church is open each Friday at 4 pm to meet to say Evening Prayer together. We would love to see you there if you can come. I strongly believe that prayer changes things and this time together will bring enormous benefits to us and to others.
Carol
Social Committee News
The social committee would like to welcome you all to the following forthcoming events at St John's.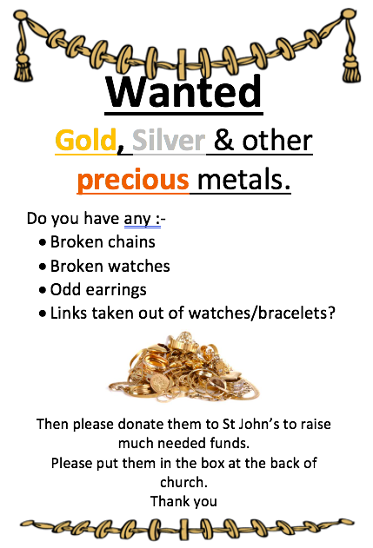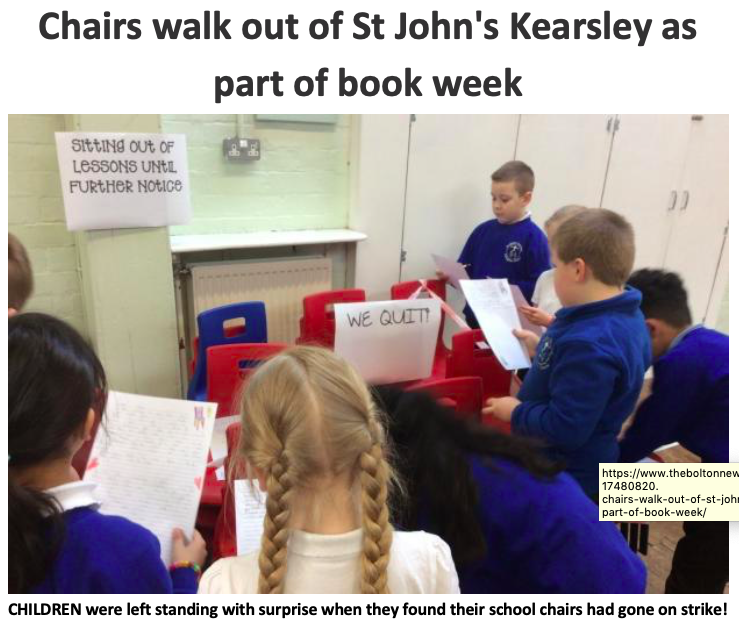 And the "walk out" by the chairs which were found taking industrial action in the school hall even caused a stir on social media among parents.
To celebrate World Book Day, St John's CE School in Kearsley, created a fun activity based on the popular children's book The Day the Crayons Quit — but in this case it was the chairs which decided to strike because they were fed up with being rocked on, tipped over, and frankly, according to the letter the chairs had penned wanted a little respect.
So children had to come up with fun innovative ways to carry on their learning without the chairs.
Headteacher Suzanne Howard said: "The children came into school on Monday to find all the chairs were in the hall and gone on strike.
"We are holding a Book Week and launched it with the activity as suggested by World Book Day.
"Children came in to see their chairs had disappeared into the hall and even the staff were surprised."
A letter "written" by one of the chairs stated they had served children for many years and which they were happy to do, but were not happy when children rocked on them and did not replace them properly at the end of the lesson.
So for one lesson, children had to do without their chairs, some sitting on the floor others standing — and children who wanted their chairs back so wrote persuasive letters to the striking furniture asking for them to come back to work.
Mrs Howard said: "This 'strike' gave the children a purposeful writing experience around persuasive writing. The children were so excited when they saw the chairs with placards and tape around them and the excitement was palpable. The quality of the engagement and writing from the children was amazing and once they had written their pieces some classes actually read them out to the chairs to entice them back into the classroom!"
And it worked because the chairs were back in for the rest of the school day.
Today children are coming dressed in different colours representing crayons with parents joining them later to enjoy reading with them.
Some parents took to social media to voice their surprise about the missing chairs.
Mrs Howard said: "We didn't tell the parents about the 'chairs going on strike' as it would have lost its impact in creating an awe and wonder experience for our children.
"We decided to do this after launching the book 'The Day the Crayons Quit'.
"So to alleviate parental concerns a text was sent out to explain that it was part of a launch for World Book Week as promoted on their own website.
"A handful of concerned parents came to see me about the 'missing chairs' and once I had explained what it was about – they were fine and laughed about it. As a school we have no issue with any parents raising concerns or queries and we urge them to do this before taking to social media."
This article appeared in The Bolton News 7thMarch 2019

It is now 55 years since our recast bells were hung in the tower and the ropes attaching them are as old. Unfortunately, 2 of the ropes, for the treble and 5thbells, are in need of replacing, as they are broken. The cost to replace these two ropes is in excess of £400.
We are launching an appeal towards the cost of the ropes and maintenance of the bells. Are you able to help? If you would like to make a donation, please speak to Dorothy McGlynn. In addition we will be holding a raffle during March.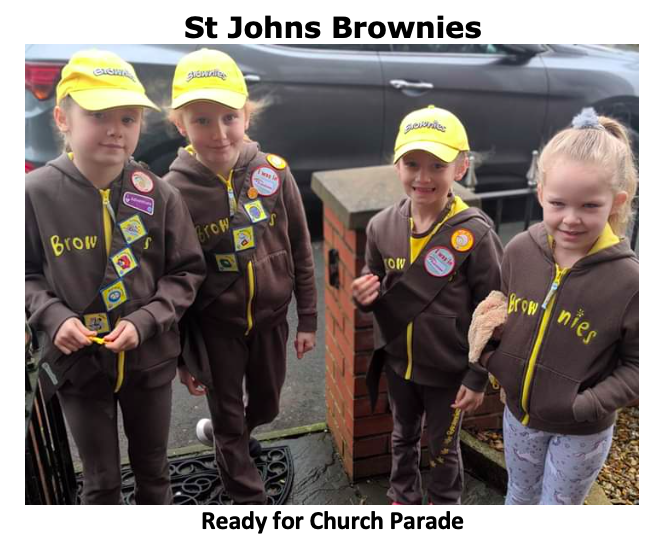 This month the Brownies have been busy completing their Seasons Badge, for those of you who were in church when they were presented, they made an Autumn Collage using natural materials, cooked vegetable soup and apple crumble, made a Four Seasons calendar, planted spring bulbs and painted a bird box.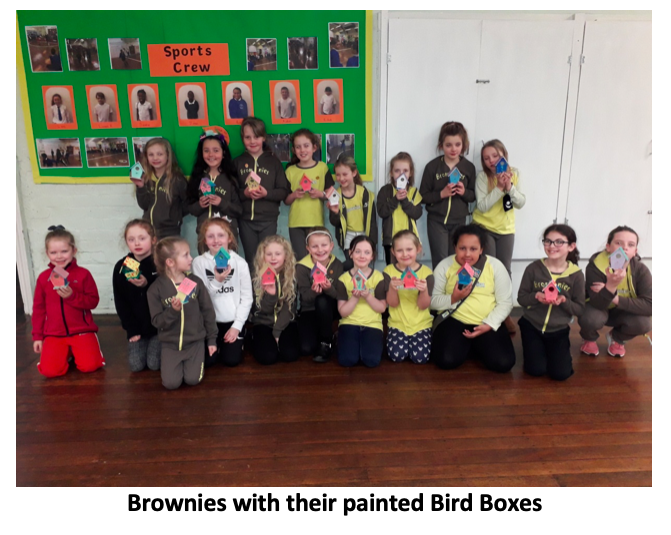 We have celebrated Chinese New Year by making stained glass pigs for the Year of the Pig.
On Thinking Day we remembered Brownies and Guides around the World and made Thinking Day cards.
We have invited our parents to a meeting in March where six Brownies will be doing their Hostess Badge and we will play traditional board games.The next badge we are working towards is Healthy Heart.
The Leaders will be attending a training session in March to learn about the new Brownie programme which is due to start in September,
Susan Stevens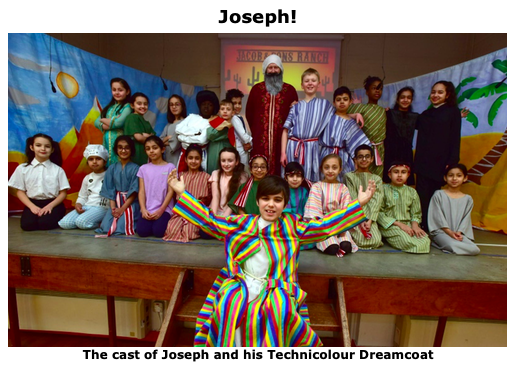 Part of our mission at All Saints CE school is to ensure that our children experience life in all it's fullness. This includes nurturing talents other than the traditionally academic ones.
This year, we put on our 3rdever whole school production. We chose Joseph and his amazing technicolour dreamcoat as it's in both the Bible and the Qu'ran, which is perfect for our school community.
Auditions were held in the Autumn term, and the rest of the school were performing as a massed choir. The children have also been involved in making the props, painting the backdrops, operating the sound and computer systems and working backstage.
We discovered a lot of talents! The children were amazing. I am so proud of both them and our dedicated staff, who are integral to doing anything like this. They have given up a lot of their lunchtimes and evenings to get it all ready. Interestingly, the children who took on the main parts have also seen a big improvement in their test scores over the last half term. The power of music!!
Katie Hague
Headteacher
Cutting the Trees Back. Thursday 21st February 2019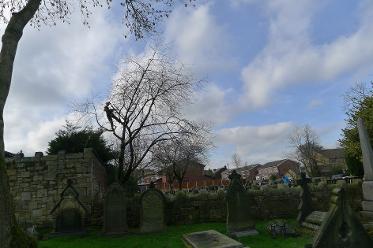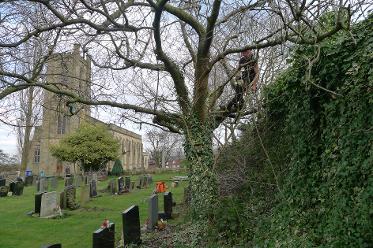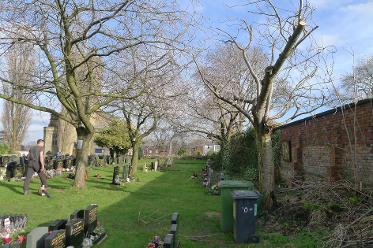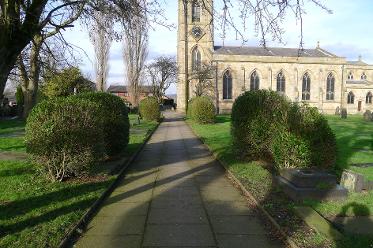 Thank you to Alison and Jackie for all your support and hard work throughout the year and to Sandra for helping out when necessary.
Susan Stevens
Children from six schools record their own CD with Zac's Youth Bar
Click HERE to read the full BEN article
© 2015 St John The Evangelist | 01204 572819 | Church Street, Farnworth, BL4 8AQ