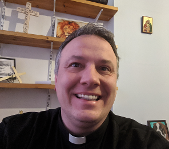 Team Rector, Farnworth, Stoneclough and Kersley
Fr Stephen has a background in Leadership and Management over 20 years including 10 years as a Lecturer in Further Education. Stephen has a passion for Mission and School ministry and is never happier than when in a School Assembly.
In his spare time he likes to paint oil paintings, mainly portraits, and his favourite muse is his dog 'Titch' a rather large and cuddly St Bernard.
Phillip is Associate Priest for the parish. He was ordained Deacon in 1997 and Priest in 1998.
Phillip was born in Farnworth and trained at Worsley and Bolton Technical Colleges obtaining a HNC in Mechanical Engineering. He trained for ministry on the Manchester OLM course at Holy Trinity Church Salford. Phillip has responsibility for the men's group within the church as well as being involved in the usual offices of the church.
Phillip is married to Brenda who enjoys life as a retired person after spending many years as secretary to a Chartered Accountant.

Titch is a large female St Bernard. In her working life Titch visits the sick and loves to visit children in school. Her favourite food is anything and her favourite game is running off with things she isn't allowed.