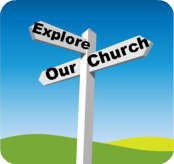 Built as a Waterloo church in 1826, St John the Evangelist, Farnworth has been extended and modified over the years.

The original nave was a "preaching box", which was extended in 1873 with a traditional neo-gothic chancel and three sided balcony.

The Church has a number of elegant Victorian stained glass windows, the finest being the great east end window, portraying the life and ministry of Christ, dedicated to the memory of the paper manufacturing pioneer Thomas Bonsar Crompton. Recently a new window was commissioned to replace a blank window, dedicated to the Mothers Union, and given in memory of Gladys Lees.
At the east end, the original high altar sits within a carved wooden reredos, and is used on Easter Sunday and Christmas Day. All other services are at the nave altar, which was commissioned as part of the renovation works.

Between 1991 and 1998, a series of restoration projects were undertaken, the last of which involved complete closure of the church building for 8 months.
Our parish covers a diverse area south of Bolton. The parish formerly had 4 church buildings but now has just one – St. John the Evangelist – which is a beautiful Grade 2 listed building and a lovely place to visit.
A timeline History of St. Johns, by Arnold Cragg
Please click HERE to download the excel spreadsheet
Vicars of old:Courtesy of V Gethin
Snippets - A History Of St John's from Newspapers and Other Journals.
Christmas Tree Festival 2006
A 'Christmas Tree Festival' was held from Thursday 7th to Tuesday 12th December 2006 as part of the continued celebration of the churches 180th Birthday Year. The Christmas trees, which had been donated by members of the congregation, where decorated to represent Christmas Carols. The festival was visited by the pupils from All Saints, St Peter's, St John's and Grosvenor Nursery Schools.
<<...>> <<...>> <<...>> <<...>> <<...>> <<...>>